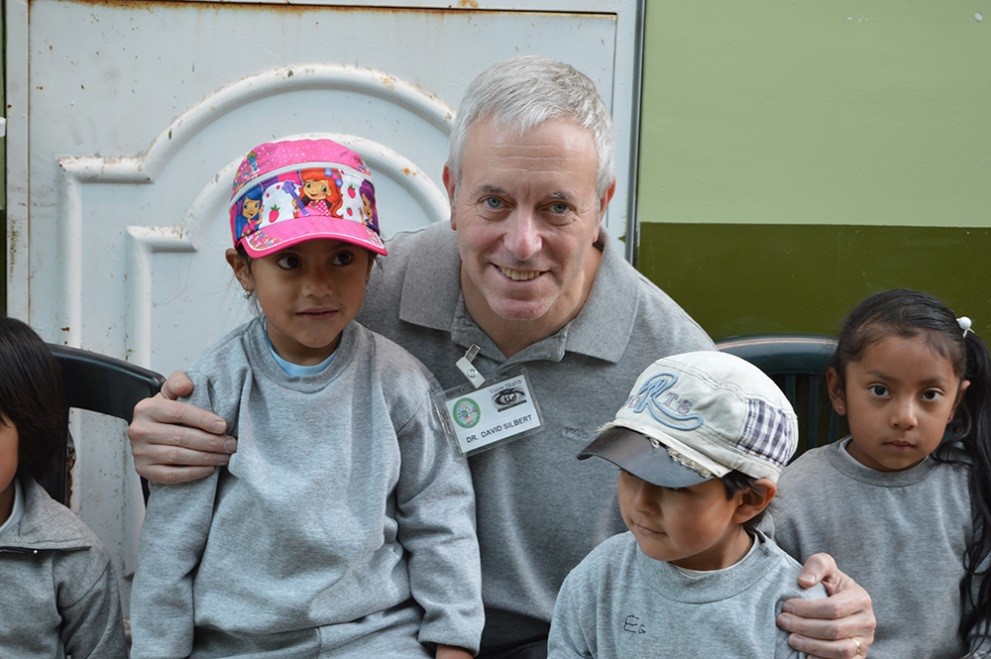 FIBUSPAM is delighted to announce a $5,000 grant from the Eos Foundation to support FIBUSPAM's general operations. This grant was made to honor the work of Dr. David and Mrs. Jennifer Silbert who have supported FIBUSPAM's mission over the last five years.
Together with their staff and volunteers, Dr. and Mrs. Silbert have provided vision screenings to over 5,000 Ecuadorian children in need and prescribed and distributed over 1,000 pairs of glasses. In addition, Dr. Silbert has helped complete over two dozen bro-bono strabismus surgeries at our clinic in Riobamba.
We thank Dr. Silbert for his easy-going attitude and ability to perform complex clinical ophthalmology exams in the most basic conditions. He and his team travel to the most remote communities in Ecuador and erect mobile clinics in dusty abandoned structures or old community buildings atop muddy fields. Despite the dreary working conditions, he has never complained and treats each child as if he were providing medical care to one of his own daughters.
Dr. Silbert also brings technical depth and breadth to our pediatric ophthalmology program, taking time to explain new concepts to our staff and providing training to our local ophthalmologist.
We thank Mrs. Silbert for advocating for each child she encounters. She is always willing to screen another dozen children no matter how late they arrive.  She gives a voice to children who have no support and has been known to track down parents in order to explain complex diagnosis and get them on a treatment plan as soon as possible. There is no obstacle too great for Jennifer when it comes to caring for these children.
FIBUSPAM is grateful for the Silberts' continued support of our mission and we are thankful to the Eos Foundation for this fitting way to honor this unique couple.
The mission of the Eos Foundation is  to break the cycle of poverty by investing in children's futures. You can learn more about the Eos Foundation at http://eosfoundation.org/.
Ophthalmologist Dr. David Silbert, MD FAAP graduated from Wesleyan University in Middletown, Connecticut and completed his medical training at Case Western Reserve University School of Medicine in Cleveland, Ohio. Dr. Silbert specializes in the diagnosis and treatment of pediatric and adult strabismus, amblyopia (lazy eye), tear drain obstruction and other pediatric eye diseases. He also specializes in cosmetic and reconstructive eyelid surgery as well as orbital surgery, minimally invasive tear drainage surgery for adults and has extensive experience using a Fractionated CO2 laser for blepharoplasty and laser resurfacing to tighten skin and remove wrinkles. He currently owns and operates Conestoga Eye in Lancaster, PA where he practices pediatric ophthalmology.
Mrs. Jennifer Beeders SIlbert is the owner and Principal of Silbert Fundraising, a successful fundraising, and leadership development consulting firm. Prior to establishing Silbert Fundraising, Jennifer Silbert worked as a political consultant to Fortune 500 companies for more than 10 years in Washington, D.C. in the arena of corporate relations, management consulting, and political strategic planning. In March of 2002, Jennifer was recognized for her entrepreneurial skills and community service when Pennsylvania Governor Mark Schweiker and the Pennsylvania Department of Economic Development named her as one of Pennsylvania's Best 50 Women in Business for 2002. Jennifer has a master's degree in Business Administration from George Washington University.
You can learn more about Dr. David and Mrs. Jennifer Silbert at http://www.conestogaeye.com/ or  http://www.silbertfundraising.com/.