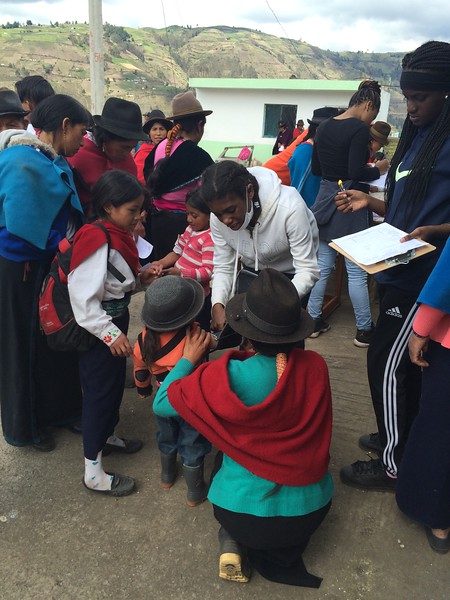 Democracy Prep student, Tiffany Challenger, was honored as FIBUSPAM's Student Ambassador of the year at our 2017 fundraising event in Connecticut.
Tiffany and 19 of her classmates traveled to Ecuador in February of 2017 to volunteer with FIBUSPAM and to explore the beauty and culture in Ecuador. In addition to helping FIBUSPAM provide medical care to over 150 children and adults in a rural community, Tiffany and her group helped install handicap ramps at a school for the disabled. The group also found time to go horseback riding and white water rafting. Here is what Tiffany had to say about her experience:
My Ecuadorian Experience
by Tiffany Challenger
Why should we volunteer? Volunteering allows an individual to make a positive impact on his or her community, while empowering the individual to make their life a little bit better. From the clinic to the local school, I truly value my experience and treasure everything volunteering at Fibuspam has taught me. Volunteering lets me experience and learn things that I would not have learned; volunteering opens doors for me that I may not have been able to open before. Being a typical New Yorker, I was brought up to lock my doors and watch my back, even in broad daylight. Who had time to help others?
On the first day of volunteer work, I was really observant about my surroundings. I saw all kinds of people in the clinic who had all of their belongings with them and even some who had their whole entire family with them. It made me contemplate my own life. What would I do if that happened to me; if I had no one to turn to for care? It had happened to these people. It made me see that even if it did, there were people who would help me too. And it made my job worthwhile.
On my first day of volunteering in the clinic, I had no idea what to expect and was a little unsure but after a few hours volunteering I left the clinic feeling like a completely different person. My mother even told me that I had a certain glow about me when I got home and that I had changed somehow. It's true. I felt better, almost renewed, like I was breathing fresh new air.
On the second day of volunteer work, we worked in a school. My job was to play with the little kids and just spend quality time with them. I can honestly say that I've never met such eager and friendly kids. Although I got sick that morning, they welcomed me almost instantly, and I felt right at home. They made me laugh, they made me smile, but most importantly, they made me want to come back.
This trip has totally changed my perspective on life. There are kids my age who complain about repetitive things like boyfriends or girlfriends, but I have seen people with real problems that can't be fixed with a phone call.