Our Mission
Our mission is to deliver integrated health care and humanitarian support to children and adults of limited economic resources in Ecuador. Our services are free and are available to all regardless of race or religion. Our patients are treated with respect and receive quality, compassionate medical care. We are dedicated to supporting the physical and social well-being of Ecuadorian families.
---
More FIBUSPAM videos can be viewed on our YouTube Channel.
Our Values
---
Our Values
We are committed to providing high-quality medical care and hope to the people of Ecuador.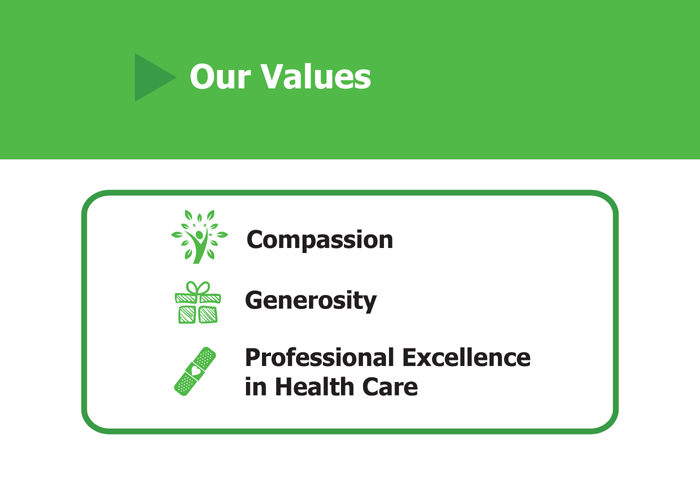 Where We Work
---
Where We Work
Chimborazo Province is an area of unique interest and great need. The population is largely indigenous with a unique culture in terms of language, religion, family and social structure, work, music and dance. It is also an area of widespread poverty, unemployment and hopelessness.
Over 25% of the adult population of Ecuador has now fled and many come from this area. Many children are left behind with other family, friends or just abandoned. Child trafficking is a significant risk to these children, as is malnutrition and lack of medical care.
The nearby erupting volcano, Tungurahua, adds other health risks, as does the widespread problem of water quality and sanitation. The economy is largely subsistence farming, families are very large and, because most children are born at home, infant mortality is very high.
Bios
---
Bios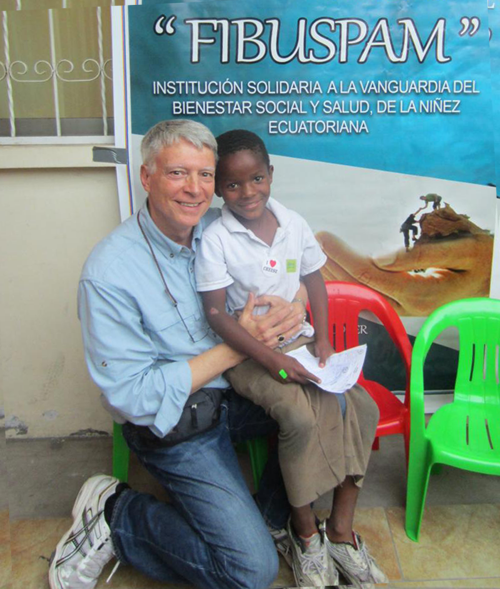 Paul Martel, Founder and President
Paul has been doing humanitarian work in Central and South America for over 15 years. He has organized 14 surgical missions to four countries including Ecuador, Colombia, Guatemala and Paraguay. With his wife, Terry, he has brought 9 children to the USA and his home to provide life changing surgeries such as open heart surgery. Paul is the Founder and President of YHB Investment Advisors located in West Hartford, Connecticut. For Paul, the work of FIBUSPAM and its Clinic is a dream come true and he feels blessed to know and work with his talented and dedicated staff and the army of volunteers they work with.
David Guacho, Executive Director, FIBUSPAM Ecuador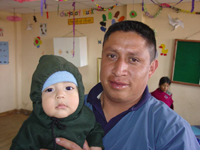 David graduated from Universidad Nacional de Chimborazo and has led our foundation since its inception in 2007. He is a great humanitarian, and tireless defender of children and the poor. His dreams, energy and commitment have no limits.
David is responsible for all employment, financial and administrative matters at the Foundation, and has deep relationships with organizations and leaders in Chimborazo Province and throughout Ecuador.
Sarah Marjane, Executive Director, FIBUSPAM Inc.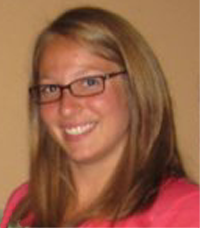 Sarah is a passionate humanitarian and is truly dedicated to our mission. She believes that every child deserves health, education, and love and is committed to serving the poor. Sarah joined FIBUSPAM in 2015 and holds a Master's degree in Public Health from Benedictine University and a bachelor's degree in International Studies from the University of Scranton.
Prior to joining FIBUSPAM, she served as a Senior Administrator at PATH, an Assistant Manager at CLUSA, and a Peace Corps Volunteer in Mozambique.
B.F. Cecilia Toaquiza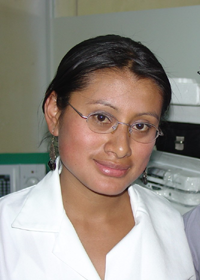 Cecilia is Pharmaceutical Biochemist. She received her degree in Public Health from ESPOCH in 2009. Since our founding, she has been responsible for our pharmacy and medicines, patient registration and record-keeping and nursing care.
Like all of our staff, Cecilia has a profound dedication to children's health and, like most of our staff, speaks both Spanish and quechua. Cecilia has worked tirelessly to advance the dreams of our foundation and is a fundamental part of the many Caravanas we run to remote communities throughout Ecuador.
Dr. Lenin Garcia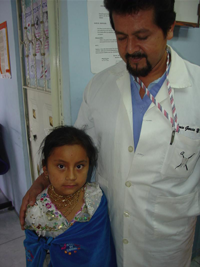 Dr. Lenin Garcia is the consummate humanitarian and dentist. His practice is based in Guayaquil.
Lenin has traveled extensively throughout Ecuador providing free dental care to needy children. He has been a tireless friend of FIBUSPAM since its inception and he travels the long distance to Riobamba frequently to provide service in our Clinic and our many caravanas to remote communities. Lenin is a constant voice of inspiration and counsel in the development of our foundation.
Olga Zapata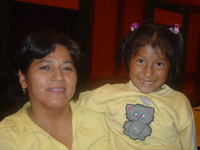 One of Paul Martel's true heroes, Olga is an inspired humanitarian that has been responsible for arranging tens of thousands of surgeries for needy children throughout Ecuador.
With FIBUSPAM, she is responsible for compliance and coordination with Ecuadorian law relating to Customs, the Provincial and Federal Departments of Health and all procedures relating to shipments and donations of medicine and equipment. She also coordinates the planning and support of our national and international surgical missions.
Luis Villa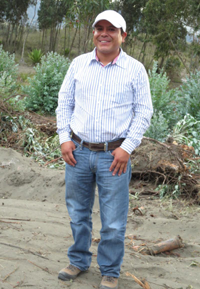 Luis is a founding member of FIBUSPAM. An electrician by trade, he is a generous and giving friend who helps coordinate our frequent community outreach projects.
Currently, Luis is collaborating with our friends at local TV station Channel 13 in the building of a new home for an extremely poor family in Riobamba.
Behind the scenes, he is always active in the logistics of our caravanas and improvements to and maintenance of our physical plant.
Florcita Tello
Florcita Tello came to the USA from Riobamba in 1994 and lives in Connecticut with her husband and three children. Seven years ago, by coincidence she met Paul Martel in his office and began assisting him in his humanitarian work.
In addition to her duties at YHB Investment Advisors, Florcita is involved in all aspects of the Foundation. This includes translation and communication, preparation of legal documents relating to Customs in Ecuador, assistance with travel details and other legal and compliance aspects of our medical missions.
Her counsel and her knowledge of the customs, government and history of Ecuador have been an important help for many years and she is grateful for the chance to help the people of her country.
In-Country Staff
David Guacho – Executive Director
Dr. Harol Alfaro – Technical Director and Ophthalmologist
Dr. Rodrigo Hinojosa – Family and Internal Medicine
Dr. Rainier Cabrera – Dentist
Rocio  Asitimbay – Senior Nurse
Ana Lema- Nurse
Victor Guangasic – Pharmacist
Olga Zapata – Senior Administrator and Inter Institutional Coordinator
Wilson Guacho – Logistics
Ruth Pomaquero – Reception and Statistics
Where We Work
---
FIBUSPAM Ecuador's Founding Members
The following 10 individuals bring a wide range of talent to our Foundation. All are dedicated, experienced humanitarians with a deep commitment to helping needy children.
Dr. Lenin Garcia, Guayaquil, Ecuador
Lic. David Guacho, Director, Riobamba, Ecuador
Paul R. Martel, Founder, Connecticut, USA
Dr. Enrique Minta, Riobamba, Ecuador
B.F. Cecilia Toaquiza, Riobamba, Ecuador
Olga Zapata, Guayaquil, Ecuador
Luis Villa, Riobamba, Ecuador
Florcita Tello, Connecticut, USA
Lindsay C. Buckner, New York, USA
FIBUSPAM Inc. Stateside Officers and Board of Directors
In early 2013, we formed our own entity here in the U.S. to provide support for our efforts in Ecuador. The organization provides the continuity we need to properly support our clinic and staff in Ecuador.
Officers
Paul R. Martel, President
Jessica Kott, Vice-President
Florcita Bedon, Secretary
Board Members
Kelly Ciotti
John Herd
Gary Cozine
David C. Allabaugh
Fernando Ascencio
Dr. Gladys Mazia
Caroline Christy
David Maydoney
Lic. David Guacho, Exec. Director, FIBUSPAM, Ecuador
Medical Advisory Committee
Howard Boey, MD ENT Surgeon, Middlesex Hospital and Yale New Haven Hospital
Rita Nenonen, MD Pediatrician, Hasbro Children's Hospital
Partners
---
Our Partners
FIBUSPAM succeeds because of the dedication, generosity and hard work of a small army of physicians, humanitarians, and friends both in Ecuador and in the U.S. We thank them for their commitment to FIBUSPAM and the people of Ecuador are honored to have the chance to work with each one of them.
We are also extremely grateful to our funders and implementation partners who make our work possible.